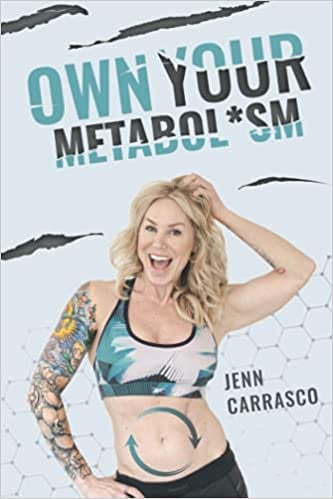 Own Your Metabol*sm
There are a lot of myths and a ton of misinformation out there about metabolism. Go to Google and do a basic search and literally millions of articles come up. Information overload is a thing, and when it comes to researching metabolism, it can be overwhelming as fuck. Until now…
IFBBpro Athlete and Health and Nutrition Coach, Jenn Carrasco, has taken her 21 years of experience and education and put it all in this easy-to-follow book.
In Own Your Metabol*sm, she shines a light on the truth behind all the information out there, and shares easy-to-follow methods that will have you feeling better, losing weight, and finally living your very best life.
Her methods aren't just theories. Everything contained in these pages is the processes and habits she uses in her daily life to stay healthy and strong. These are tried and true methods proven over years, and with thousands of clients worldwide.
No more excuses, it's time to Own Your Metabol*sm.
Buy this book now!
It's the wholly grail of all things fitness, metabolism and maintaining a healthy lifestyle. Jen is a true wealth of information and knowledge. Buy this book now!
What an amazing book!
Metabolism is one of those things that is complicated to figure out. There is so much conflicting information. We all know that metabolism is what keeps us fat, trim or skinny but nothing I've read breaks it down like this. It's clear that this author is an expert in her craft. Thank you for helping me understand how my body really works!!!
Amazing!
Jennifer is an absolute rock star when it comes to studying the human body's ability to metabolize. If you knew her in person, you would understand how passionate she is about this subject. The wealth of knowledge you will gain from her will literally blow your mind!
Bada$$
Jenn is such a bada$$ and so is this book. She's got such a great attitude as she powers through fitness & business & life. She's an inspiration and this book is proof of that!
Must Read on Metabolism
Jenn breaks down metabolism in a simple to understand way, and that makes it much easier to implement. I'd highly recommend this book!